In This Issue:
| | |
| --- | --- |
| ● | Welcome from your Sleditor! |
| ● | Mt. Brighton Hosts World Championship Sled Races |
| ● | Races TV Show Airs Nationally |
| ● | Austrian Resorts Thrill to Captain Avalanche Sleds |
| ● | FOX Sports Net "Fusion TV" Spots Captain Avalanche |
| | at Winter X Games Qualifier |
| ● | America's Most Popular Sledding Hills |

Visit the Captain Avalanche Site
What a year our first year has been!
In fact, our first year has been a blizzard of "firsts." Our first production sleds -- in two sizes and five colors. Our first national publicity -- CNN, the AP, FOX Sports . Our first international resorts -- thank you Austria! Our first -- and the world's first -- sled races.
Heck, even this -- our first newsletter.
But our most cherished memories were the first YEA-HAW!!'s from our first riders.
Whether you own a Captain Avalanche sled, dream about flying downhill on one, or are a member of the teams who produce and promote them, thank you for helping us pursue our goal to see sledding equal to the other "s's" of winter: skiing and snowboarding.
We welcome with open, down-filled arms any submissions or suggestions for our next newsletter.
Right now, somewhere, it's snowing - go slice some slopes!
Sleditor-In-Chief
Mt. Brighton Hosts World Championship Sled Races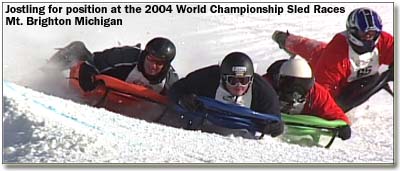 On Saturday, January 31st, long before Mt. Brighton even opened its doors, a crowd of eager sledders was gathering. They were the first of over 120 competitors who entered the World Championship Sled Races.
With temperatures hovering around 10 degrees and wind chill well below zero, the snow on Mt. Brighton was wicked fast. Using Brighton's black diamond slope, two special courses were built: one for Sled Slalom and one for Sledder-X.
At 11:30, the first riders launched out the start gate, smoking through the switchbacked slalom flags, and racing the clock to the bottom. When all competitors had finishing tearing down the course, the leader of the pack was Pat Schutte. He nailed the fastest time -- a blistering 16.95 seconds -- edging second-place Brian Kent by a runner-thin two one-hundredths of a second!
Here are the top SLED SLALOM finishers in each division:
MEN
1st Pat Schutte
2nd Brian Kent
3rd Adam Koirula

WOMEN
1st Jenny Birdsall
2nd Cindy Waitz
3rd Jenn Steinhilber-Erb

BOYS
1st Tim Schneider
2nd Rayan Tinkus
3rd Carson Pippin

GIRLS
1st Lindsay Fendt
2nd Emily Hutchison
Mt. Brighton's dedicated groomers spent Friday preparing the Sledder-X course. When they were finished there were 6-foot high banked turns and a trio of rollers awaiting contestants. Starting four abreast, riders jostled for position. With each successive round, surviving numerous crashes and rollovers, the field was whittled down to a hungry group of semi-finalists. When the snow cleared, 53-year-old Dan Baliko flew through the Red Bull winner's gate first. Jenn Steinhilber-Erb carved her name into the history books as the leading woman, Cody Vine sliced down the slope first in the Boy's Division, and Lindsay Fendt pointed the way into the winner's corral in the Girl's Division.
Here are the complete Official Results: SLEDDER-X
MEN
1st Dan Baliko
2nd Nick Koirula
3rd Ian Ballheim

WOMEN
1st Jenn Steinhilber-Erb
2nd Cindy Waitz
3rd Nicole Gayeski

BOYS
1st Cody Vine
2nd Carson Pippin
3rd Tim Schneider

GIRLS
1st Lindsay Fendt
2nd Emily Hutchison
Sled Races TV Show To Air Nationally

In addition to a dedicated team of riders, groomers, and Brighton employees, there was a TV crew filming the first World Championship Sled Races. The resulting hour-long program will air in selected markets over the next two months.
Although you should consult your local listings, here are the states, cities and stations which, as of this writing, are scheduled to air the show.
(If your state or city is not listed, please check our Web site for updated air times and show excerpts.)
ALASKA

INDIANA

MONTANA

WASHINGTON

Anchorage

KTUU

Evansville

WEVV

Billings

KTVQ

Bellingham

KVOS

Fairbanks

KFXK

Jasper

WTSN

Great Falls

KRTV

Tri-Cities

KAPP

Kalispell

KTMF

IDAHO

Missoula

KMMF

WISCONSIN

Boise

KNIN

IOWA

Madison

WBUV

Pocatello

KPVI

Davenport

WBQD

OHIO

Green Bay

WIWB

Idaho Falls

KFXP

Toledo

WFND

Twin Falls

KXTF

Lima

WLMO

WYOMING

MICHIGAN

Cheyenne

KLWY

ILLINOIS

Grand Rapids

WOTV

OREGON

Casper

KFNB, KCWY

Peoria

WAOE

Lansing

WHTV

Eugene

KEVU, KLSR

Jackson

KJVI

Pocatello

WQAD

Pendelton

KAPP

Austrian Resorts Thrill to Captain Avalanche Sleds

While American "ski" resorts fiddled, Austrian resorts burned up the slopes on Captain Avalanche sleds. Austria, famous for its world-class downhill athletes and Alpine hospitality is also home to some of the earth's grandest sled runs. Some, like the rodelbahn (sled road) at Ischgl, are miles in length and, like the one in Schruns, overlook breathtaking vistas. We are thrilled to announce that, this season, Captain Avalanche sleds carved their way down those historic runs. The enthusiasm was mutual. Alexander Orasch, of Lermoos, declared "All our guests and my team like them very much. They are making a lot of fun and entertainment." (Remember, his English is far better than our German.)

An avalanche of thanks to all our supporters in Austria!

Click here to see the listing of Austrian resorts!

FOX Sports Net Fusion TV Spots Captain Avalanche at Winter X Games Qualifier.

The jaws of the Ski Patrol at Sugar Bowl (Tahoe, CA) were almost hanging to the tips of their skis when, on Saturday, January 17th, Lee Dansie and Forest Devore tore down the Skier-X/Boarder-X course for the Winter X Games Qualifier on their Captain Avalanche sleds. Dansie is a 7-time X Games medal winner and Devore is a scorching-hot hot dogger from Bend, Oregon. The course was described as "very technical" by the Qualifier athletes and none had ever seen a sled attempt such a challenging slope. Luckily, a top-notch camera crew caught the rip-roarin' action on tape and you can see it if you're lucky enough to catch Episode 42 of Fusion TV on your local FOX Sports Net station.

America's Most Popular Sledding Hills

With the following list we start down the slippery slope of trying to compile the most complete list of the nation's slippery slopes. We can't do it alone.

WE BEG YOU to add your favorite sledding hill to this tiny pile of places where America goes when it snows. Whether it's a mountain or a sentimental mole hill, send it in. Just drop us an e-mail describing your community's favorite fields, sacred streets and golden golf courses.

| | |
| --- | --- |
| Also, if you find errors in this list, please holler. Finally, remember that some cities are skittish about declaring any particular slope an "official" sledding hill. Accidents, lawsuits, and Nervous-Nellie Syndrome have taken their toll in many municipalities. So although a location might be listed below, it doesn't mean it's legally sanctioned for sleds. Observe the rules...don't be a snowfool. | |

On your mark, get set, go sledding . . .

COLORADO
Boulder City
• Tantra Park
• Foothills Community Park
• Scott Carpenter Park
• Harlow Platts Park
• Meadow Glen Park

Durango
• Chapman Hill

Frisco
• Frisco Peninsula Recreation Area

Vail
• Ellefson Park

CONNECTICUT
Bridgeport
• Bearlesy Park

Bristol
• Dead Man's Hill behind Rockwell Park
• Paige Park

Brookfield
• Brookfield High School

Brooklyn
• Brooklyn Elementary School
Chesire
• Mixville Park
• Saint Bridget's Church

Coventry
• Coventry Grammar School

East Hartford
• Veterans Memorial Park


Enfield
• Enfield High School

Farmington
• Farmington High School

Glastonbury
• Hopewell Hill

Greenwich
• Bruce Park
• North Mianus School

Groton
• Washington Park

Guilford
• Baldwin Middle School

Hamden
• East Rock Park
• Commons dorm at Quinnipiac University

Hartford
• Prospect Avenue (north of Governor's mansion)

Madison
• Madison Town Campus

Manchester
• Center Springs Park
• Wickham Park

Meriden
• 9th hole at Hunter Memorial Golf Course

Middlefield
• Indian Springs Golf Course

Middletown
• The Elks Club
• Foss Hill at Wesleyan University

Naugatuck
• Peter Paul

New Britain
• Smith School
• Walnut Hill Park

New London
• Fort Trumbull

New Milford
• Hill and Plain School

Norwich
• Norwich Golf Course

Old Lyme
• Old Lyme Country Club

Rocky Hill
• 6th fairway at Rolling Green Golf Course

Seymour
• Chatfield Park by Legion Pool

Southington
• Panthorne Park

South Windsor
• Sand Hill

Stamford
• Cummings Park Hill
• East Gaynor Brennan Golf Course

Storrs
• Horse Barn Hill by UConn

Trumbull
• Twin Brooks
• Indian Ledge

Vernon
• Henry Park

West Hartford
• Beachland Park
• Buena Vista Golf Course
• BugBee School hill
• Norfeldt School

IDAHO
Boise
• Simplot Hill

ILLINOIS
Bloomington
• Highland Golf Course

Champaign
• Centennial Park


Chicago
• Museum Campus by Field Museum

Kankakee
• "Poop Hill" at the Bradley Sewer Plant

Winnetka
• Skokie Playfield



INDIANA
Purdue
• Slaytor Hill


IOWA
Ida County
• Moorehead Park

Iowa City
• Happy Hollow Park
• Hickory Hill Park
• Scott Park
• Hunters Run Park
• Kent Park (Oxford)

Newton
•Sunset Park

Quad Cities
• Butterworth Park Hill

KANSAS
El Dorado
• Catholic Hill

Topeka
• Quinton Heights Hill

MASSACHUSETTS
Bridgewater
• Raynham Middle School

Pittsfield
• Shores of Onota Lake

MICHIGAN
Kalamazoo
• Woods Lake Elementary School

Port Huron
• East China Township Park

Romeo
• Morton Mountain (Community Center)
• Stony Creek Metropark
• Gladeview picnic area
• West Branch picnic area

Saginaw
• Showboard Park

White Lake
• North Mears Avenue

MINNESOTA
St. Cloud
• Calvary Hill

MONTANA
Great Falls
• Verde Park
• Warden Park
• Whispering Ridge

Livingston
• South 10th Street

Missoula
• Blue Mountain
• Upper Miller Creek
• Nicole Park
• Rainbow Park


NEBRASKA
Fremont
• Clemmons Park

NEW HAMPSHIRE
New Bedford
• Whaling City Golf Course

NEW JERSEY
Monmouth County
• Holmdel Park

NEW YORK
Buffalo
• Shakespeare Hill at Delaware Park

Ithaca
• Rice Hill in Taughannock Falls State Park
• Cornell Plantations

Poughkeepsie
• Hackett Hill Park

Rochester
• Cobbs Hill Park

NORTH DAKOTA
Stanley
• Glass Hill

OHIO
Akron
• Goodyear MetroPark

Cincinnati
• Freedom's Voice Reserve Park

Dayton
• "Suicide Hill" at Community Golf Course
• Rec Center Hill at Glengarry Drive
• Carriage Hill MetroPark
• Triangle Park
• Washington Park
• Franklin Park
• Mote Park

Heath
• Geller Park

Hebron
• Harbor Hills Country Club

Lakewood & Vicinity
• Kauffmann Park
• Linden Park
• Edgewater Park
• Big Creek Reservation
• Big Met Golf Course
• Little Met Golf Course
• Huntington Reservation

Newark
• T. J. Evans Park
• Reese Family Farm Park

Tiffin
• Hedges-Boyer Park on Vic Wurm Field hill

Warren
• Packard Park

PENNSYLVANNIA
Easton
• Upper Hackett Park

Erie
• Pleasant Ridge Park

Hershey
• Shank Park

Pittsburgh
• Knob Hill Park in Marshall

State College
• Slab Cabin Park
• Bryce Jordan Center
• Suburban Park

York
• Reservoir Hill

RHODE ISLAND
Glocester
• Acote's Hill (off Route 44)

UTAH
American Fork
• Cedar Hills Golf Course

Salt Lake City
• Sugar House Park
• Gorgoza Park
• Soldier Hollow

VERMONT
North Attleboro
•World War I Memorial Park

WASHINGTON
Clark County
• Oldman Pass Sno*Park

WISCONSIN
Door County
• Hill 17 (17th fairway at Peninsula State Park)

Grand Chute
• Arrowhead Park

La Crosse
• Forest Hills Golf Course

Marshfield
• Wildwood Park

Oregon
• Jaycee Park

Racine
• Lockwood Park
• Shoop Park
• Park High School - Maryland Avenue
• Devor Park in Burlington

Steven's Point
• Iverson Park

Waukesha
• Lowell Park
• Ridge Run County Park
• Mitchell Park in Brookfield

Please email us with YOUR favorite sledding hills!
If you wish to stop receiving our newsletter, just click here and we will remove you from our mailing list.
---
©2004 Captain Avalanche and the Captain logo are the property of Captain Avalanche Industries, Seattle WA USA