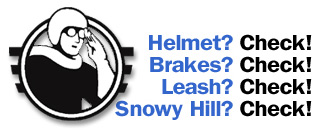 Congratulations, youíre almost ready for a slow, cautious test ride. The last thing to do is check the sled, itself.
Wiggle the two steering bolts. (The one that connects to the steering bar and the one that connects to the steering yoke.) They shouldnít be loose. If they are, tighten them.
Now, turn the steering yoke fully to one side, and release. The runners should snap back straight. Now check the other direction.
Be sure the two runner clamp screws and the one sizing screw are securely in place. If not, screw them in.
Now itís time not to do something. Donít wax your runners.
Unlike other sleds, Captain Avalanche runners are made of hard anodized aluminum. Without any extra pampering, theyíll remain slick sliding surfaces. (Just as long as you donít slide over rocks. Or dirt. Or pavement.)